Home

/

Absolutism vs. relativism - is truth subjective?

16



editorial posted by
Clarisse88
in
philosophy
philosophy

How about financially supporting the OP/author with a few pennies (
on us
) by upvoting? Just click the
show
link and reward your karma. Or leave a comment with your thoughts.
Here's some free karma to start
.
Nowadays, relativism is a philosophy acclaimed by many; they defend it as a natural human truth and develop a way of living based on it. Whenever I hear or read a relativist, I feel the profound wish to explain the contradictory basis and the harmful consequences of this philosophy so that more people may understand what its defense implies. This is the unique purpose of my article. I will begin with this thoughtful dialogue between Protagoras and Socrates:
Protagoras: Truth is relative. It is only a matter of opinion.
Socrates: You mean that truth is mere subjective opinion?
Protagoras: Exactly. What is true for you is true for you, and what is true for me, is true for me. Truth is subjective.
Socrates: Do you really mean that? That my opinion is true by virtue of its being my opinion?
Protagoras: Indeed I do.
Socrates: My opinion is: Truth is absolute, not opinion, and that you, Mr. Protagoras, are absolutely in error. Since this is my opinion, then you must grant that it is true according to your philosophy.
Protagoras: You are quite correct, Socrates.
This leads to the big question...
What Is Truth?
For a philosophy to be valid, it must be non-contradictory; that is, it must be consistent with its own proposal
Based on the path we take toward truth - absolutism or relativism - we will obtain completely different answers. By definition, relativism is "the doctrine that knowledge, truth, and morality exist in relation to culture, society, or historical context, and are not absolute." It's a theory, "especially in ethics or aesthetics, that conceptions of truth and moral values are not absolute but are relative to the persons or groups holding them."
Conversely, absolutism is "the doctrine that reality is unitary and unchanging." It includes "any theory which holds that truth or moral or aesthetic value is absolute and universal and not relative to individual or social differences."
So, to determine where truth lies and why, we should consider the premises of each.
The Consistency and Contradictions of Absolutism and Relativism
For a philosophy to be valid, it must be non-contradictory; that is, it must be consistent with its own proposal.
That is not the case with relativism as it commits an error that I call "the defining contradiction." I've picked this interesting passage by John Kekes to illustrate this error:
Suppose for the moment that relativism is right: all beliefs are cultural artifacts and they do not conform to objective facts; they merely reflect how a culture views the world, not how the world is. Two consequences follow, each devastating for relativists. First, if what relativists claim holds for all beliefs, then it holds for relativism as well. It too is a cultural artifact and it does not conform to objective facts. Relativism, then, tells us nothing about the truth; it tells us merely what relativists have been culturally conditioned to believe about the truth. People who believe that relativism is false because some beliefs do conform to objective facts are also culturally conditioned. In that case, however, there is no more reason to be a relativist than to be an anti-relativist, since neither is a matter of reason at all. Both depend on the cultural conditioning to which people have been subject. It would, then, be just as wrong for relativists to try to impose their views on defenders of "Western civ," the canon, the classics, the objectivity of science, and the authority of teachers over students as relativists say it is wrong for anti-relativists to impose their views. If relativists attempt to defend their position by claiming that it is not culturally conditioned but actually true, then they cannot consistently maintain their central claim that the truth does not exist. It must exist if they have found it."
In other words, relativists defend their theory as an absolute. But if we accept it as correct, they are claiming a relative assumption. Relativists claim that truth lies in the individual's perception; however, they are claiming it as an absolute; yet, at the same time, they are claiming that absolutes don't exist. Therefore, it is a contradiction.
Contrast this with absolutism. It doesn't have any contradiction in this respect. Absolutists claim that truth lies in reality, and reality is objective (i.e., not based on personal bias). They defend this assumption as an absolute, acknowledging that they can prove it through objective facts/observable phenomena.
Another important point to consider is the self-sufficiency of reality in order to determine which theory is accurate. Reality, in-and-of-itself, is self-sufficient. What does that mean? It means that reality exists as a whole, regardless our own capacity to understand and determine it. For example: a person in a coma can't consciously perceive reality and, therefore, can't establish any definition of it.
But does reality stop existing when someone is in a coma? Certainly not. If it stopped existing, there wouldn't be hospitals to take care of this person, nor doctors, nor any factor of reality. This proves that truth comes from objective facts. The human capability to acknowledge truth lies in the recognition of reality, and this process is part of the objective aspect of existence.
Therefore, an absolutist philosophy will be internally consistent because it is based on this stable and self-sufficient reality.
The Consequences of Relativism
As with any other choice, relativism has certain consequences in our lives. To me, the primary impacts are to individualism, morality, and knowledge, which are the key aspects for a society to thrive.
Consequences of relativism on individuals
Who would you rather build the airplane you fly in? A scientist who knows the absolutes of math or someone who believes whatever he wants to believe?
At an individual level, relativism contradicts human nature and causes personal stagnation because, while we have the intrinsic capability to perceive and rationally recognize reality, we turn-off this distinctive feature in order to opt for an irrational way of thinking. When we don't recognize reality as an absolute, we can't achieve any real goal in our lives as everything would be relative and its nature would be dispersed and doubtful. For instance, let's say that there's a student who wants to become a scientist and whose philosophy is relativism. One day, his teacher tells him that 2 + 2 = 4, and that this is an absolute truth in the mathematical process. However, as he thinks that truth is relative to one's opinion, why should he accept this formula as correct? And if he ignores the absolute truth of this mathematical axiom, what can he really learn about the more complex scientific ideas? Is he likely to reach his goal of becoming a good scientist? Certainly not.
On the other hand, if he accepts the facts of reality such as this fundamental, he will be able to build upon it and reach a higher level of mathematical and scientific knowledge. Also consider it from this perspective - who would you rather build the airplane you fly in, for example? A scientist who knows the absolutes of math or someone who believes whatever he wants to believe?
Consequences of relativism on morality
First, let's define morality. Morality is considered a set of principles concerning the distinction between right and wrong or good and bad behavior. We must establish what is good and what is evil in order to conduct our lives. That is, if we consider morality relative (i.e., that there isn't any objective good or evil), by definition, the concept of morality wouldn't make any sense because it would be reduced to whimsical, individual preferences.
Why do we need to construct a moral code? I don't think we could survive or thrive in society without one. Without a moral code, the actions of others would be harming and destructively interfering with our lives. For example, a murderer might believe that killing an innocent person is a moral behavior because, as a relativist, that's what he prefers and enjoys. What argument could another relativist use that the murderer isn't correct in his behavior - that his behavior isn't "good?" Of course, from an objective perspective, the consequences of his actions are that an innocent victim's life has been destroyed by his whim. Further, there can't be any such thing as justice under relativism because his conduct would be considered as right. Obviously, humanity can't thrive under such conditions.
Consider the alternative - that human life matters... that human life is the objective standard of right or wrong... that the consequences of taking another's life means that your own life is also not safe. Looking at whether someone is harmed from your action, as an absolute, can be measured factually. This would be the role of justice - based on an objective standard and facts, to determine if an action was bad and to measure the amount of "badness." The relativist can't measure the badness or, if he does, measures it like a feather floating in the wind. The absolutist measures the badness like a rock.
Consequences of relativism on cognition
Our ability to absorb and develop knowledge has greatly fostered our evolution as a species. By definition, cognition, which is the mental process of knowing, requires absolutism to exist. Knowledge results from our abilities to perceive, learn, and reason. To acquire knowledge, we must think logically, which means that we must accept and understand the objective facts of reality.
Knowledge without objective facts or reason doesn't really qualify as knowledge but, instead, as mere beliefs or inventions. For example, I may believe that, when I throw a stone into the water, the stone will float. There isn't any objective fact to prove my claim. Therefore, it can't be considered knowledge.
So, for those who defend relativism, I want them to be aware that all the improvements (e.g., scientific, technological) that they love and that make their lives better are based on absolute facts. Without the absolutes that knowledge provides, we would still be living in caves. For example, take the computer with which you are reading this article. For it to exist, it was first necessary to discover the facts of reality in order to use them to build such a complex system. Try to build a computer based solely upon beliefs. It's impossible.
In other words, absolutists seek to acquire knowledge to improve their own lives and the lives of others. Conversely, relativists seek only mere beliefs. Who do you think will live better lives? Who do you think will foster a more valuable world?
Conclusion
Now that we know that relativism is not a consistent philosophy, why do so many people support it? Why is it so popular?
I think the defense of relativism lies basically in a voluntary refusal to see or acknowledge reality (aka intellectual dependence). When people are allowed to get away with belief systems without suffering the consequences of those beliefs, relativism flourishes. Take socialism as an example. Socialists believe that they can ignore the laws of economics. So long as socialists can live on the backs of others who produce, they won't have to suffer the consequences of their belief systems. That is, until everyone dies. (Just look at the current European economic crisis.)
In my opinion, absolutism is the better way to think. If more people thought in absolute terms, I think we would see a huge reduction of the world's problems.
About philosophy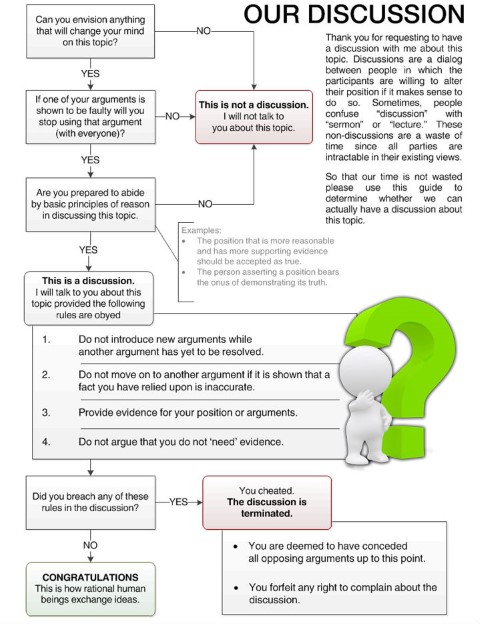 philosophy
https://valme.io/c/philosophy
c_prompt
"Too often... we enjoy the comfort of opinion without the discomfort of thought," said John F. Kennedy in 1962.
The term philosophy comes from two Greek words meaning love of wisdom. Well put. Please apply it here.