0



How about financially supporting the OP/author with a few pennies (
on us
) by upvoting? Just click the
show
link and reward your karma. Or leave a comment with your thoughts.
Here's some free karma to start
.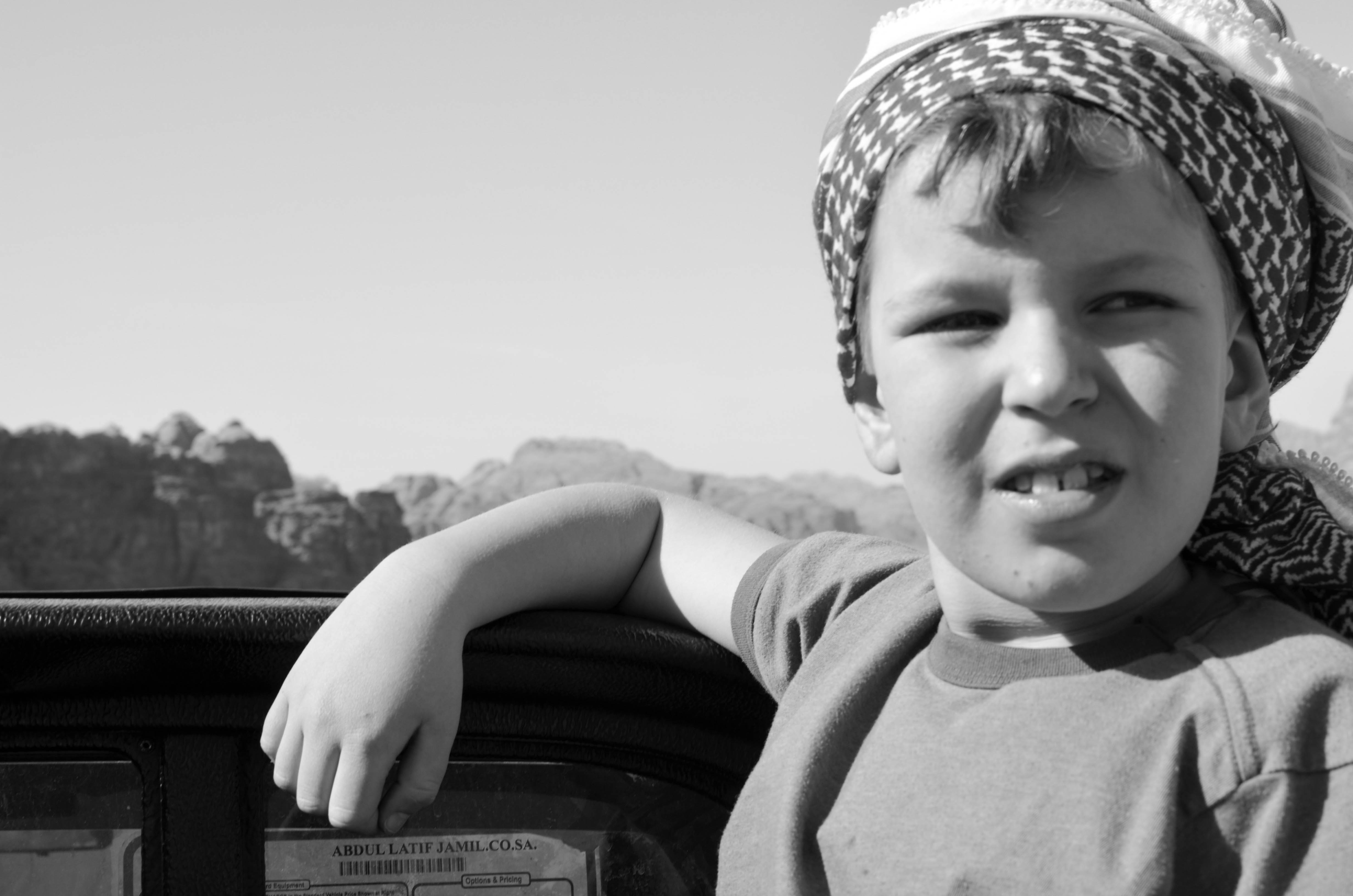 One of the places I have been is Jordan, a country that borders Syria, Iraq, Israel, Saudi Arabia, and the Dead Sea. It has many famous places, like the Dead Sea, Mount Sinai, Petra, and the Jordan River. Most of those places are religious - some Catholic, some Jewish, and obviously, since it is the primary religion, Islam. Many Westerners are not a big fan of the Middle East, or Muslim people, because of terrorist groups like Al Qaeda, Taliban, and ISIS/Islamic State/ISIL. Many people will not go to Jordan or any country in the Middle East (besides sometimes Israel) because of this reason.  It is true that Jordan is not safe to go now, but when I went, it was safe.
It is sad what is happening to great ancient ruins in Iraq, Afghanistan, Syria, and Iran. Iraq holds the Sumer (the first civilization), Iran holds Persia (the first great empire), and Syria holds so many religious sites and ruins for Christians, Jews, and Muslims. I am sure if there were no terror attacks, all of these countries would be incredible places to visit. But, there is ISIS and other terrorist organizations, so the Middle East will be blocked off for who knows how long. The people in Jordan, any refugees, and for that, any Muslim country as a whole, do not deserve the criticism they get from people. It is the terrorists that are the bad ones, not the people. The people of Jordan were so nice, and even though they did not understand English well, they were very kind. The Middle East is the cradle of civilization and the entire region must be an incredible place, but now because of refugees and terrorists, Europe and the Middle East are unsafe. The refugees are fleeing from the terrorists, so how are the refugees the bad/unsafe ones? They have probably lost everything they have.
Jordan itself is an amazing country. When I was in Jordan, ironically I had not really felt that safe in the world ever.  It felt safer than Paris, safer than London, safer than my own city, Chicago, and maybe even safer than green, peaceful Iceland. However, there was a small scare (which we usually have on every trip). This was in Wadi Rum, a desert where we stayed with Bedouins for a night (Bedouins are a nomadic tribe in the Middle East). It was amazing being there, staying at a camp and eating a ton of food. When we went over to a nearby hill take a picture of the sunset, the guide left us there and drove back to the camp. I remember being scared, but the guide came back to get us, so we should not have gotten scared.
The day before that we went to Petra, a famous world wonder.  It was an amazing site! Once we got through the Siq, the passageway to get to the ruins, I saw the giant structure, the Library, looming over me.  It looked like there were bullet holes in it and it looked awesome! Later, after a long walk uphill of hundreds of steps, we saw the even bigger building, the Treasury.  The day before that, we went to a Roman ruin named Jerash. I was very sad the last day when we went to a resort that bordered the Dead Sea. I was sad and wanted to go back to the rest of Jordan. I usually do not like to stay at resorts on vacations, but it was just one day. I was very sad when we left, but then we had a few hour layovers in Dubai. It was way too rich because of the oil. Jordan was an amazing country, and my point is that Jordan is an amazing country, with history dating back to the start of civilization, with great people, yummy food, and a great country in a great area of the world - even though it gets all the criticism from people in the West.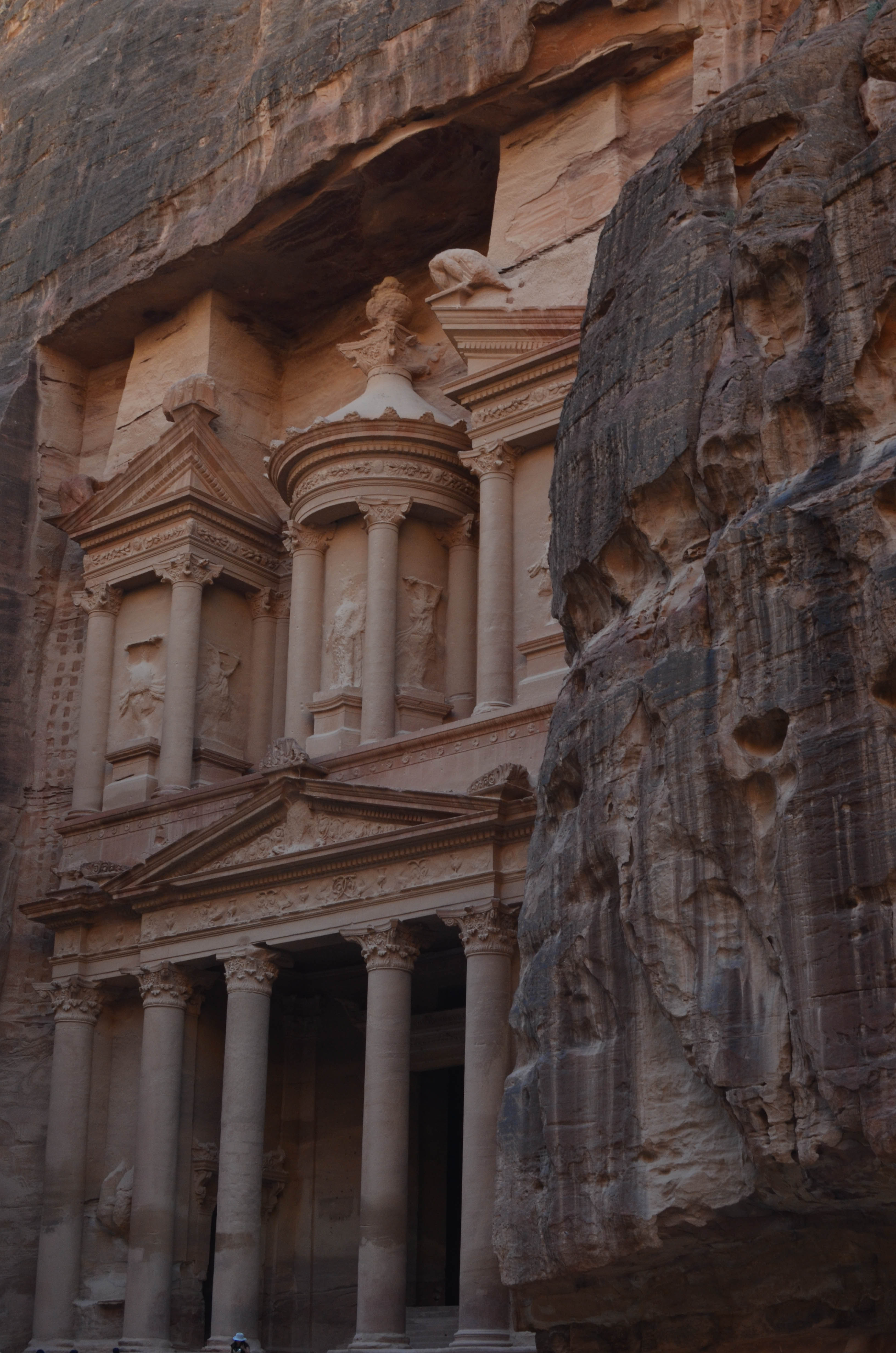 ​​​
Petra - recognize it from Indiana Jones??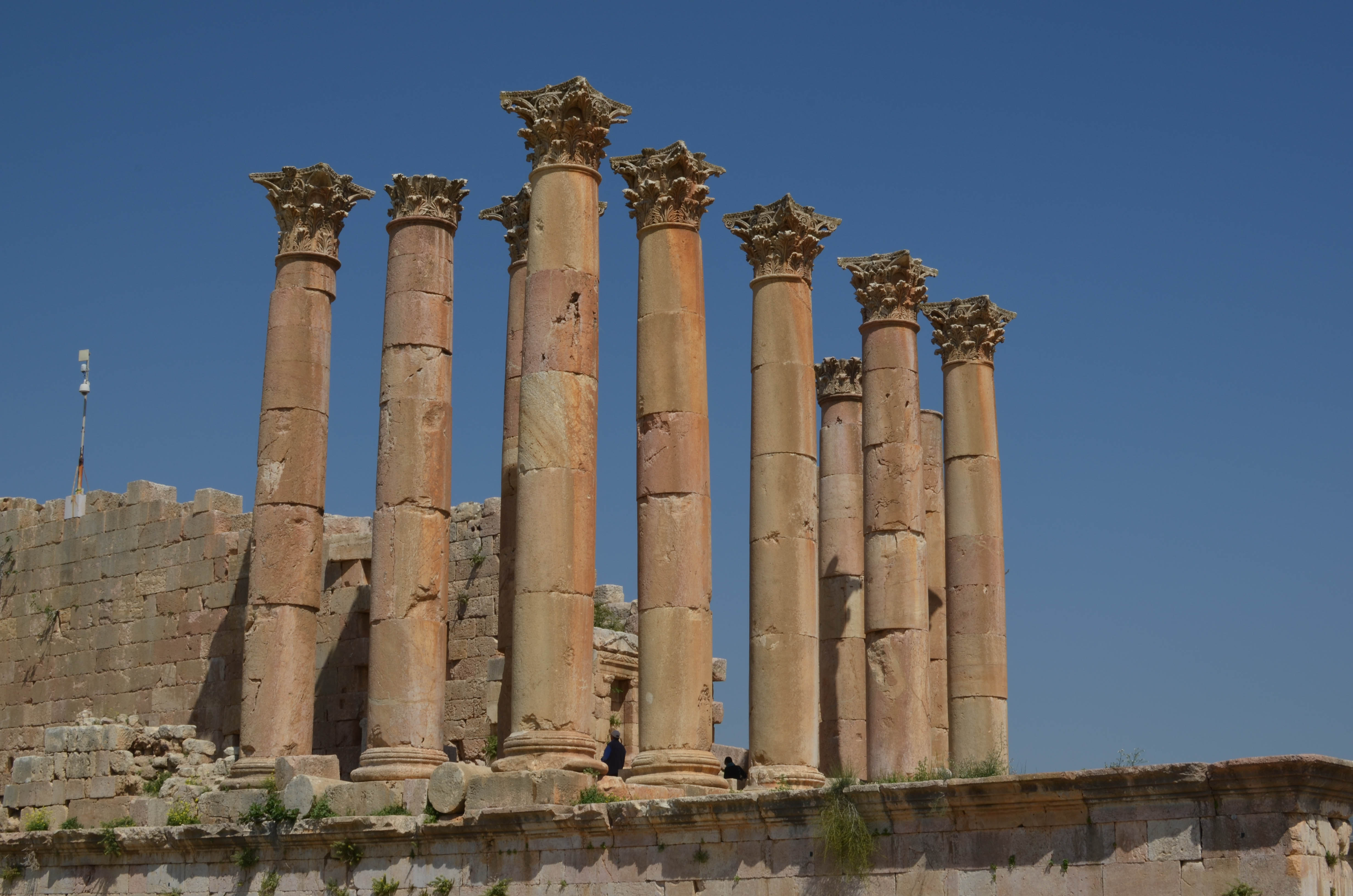 ​​​
Roman Ruins of Jerash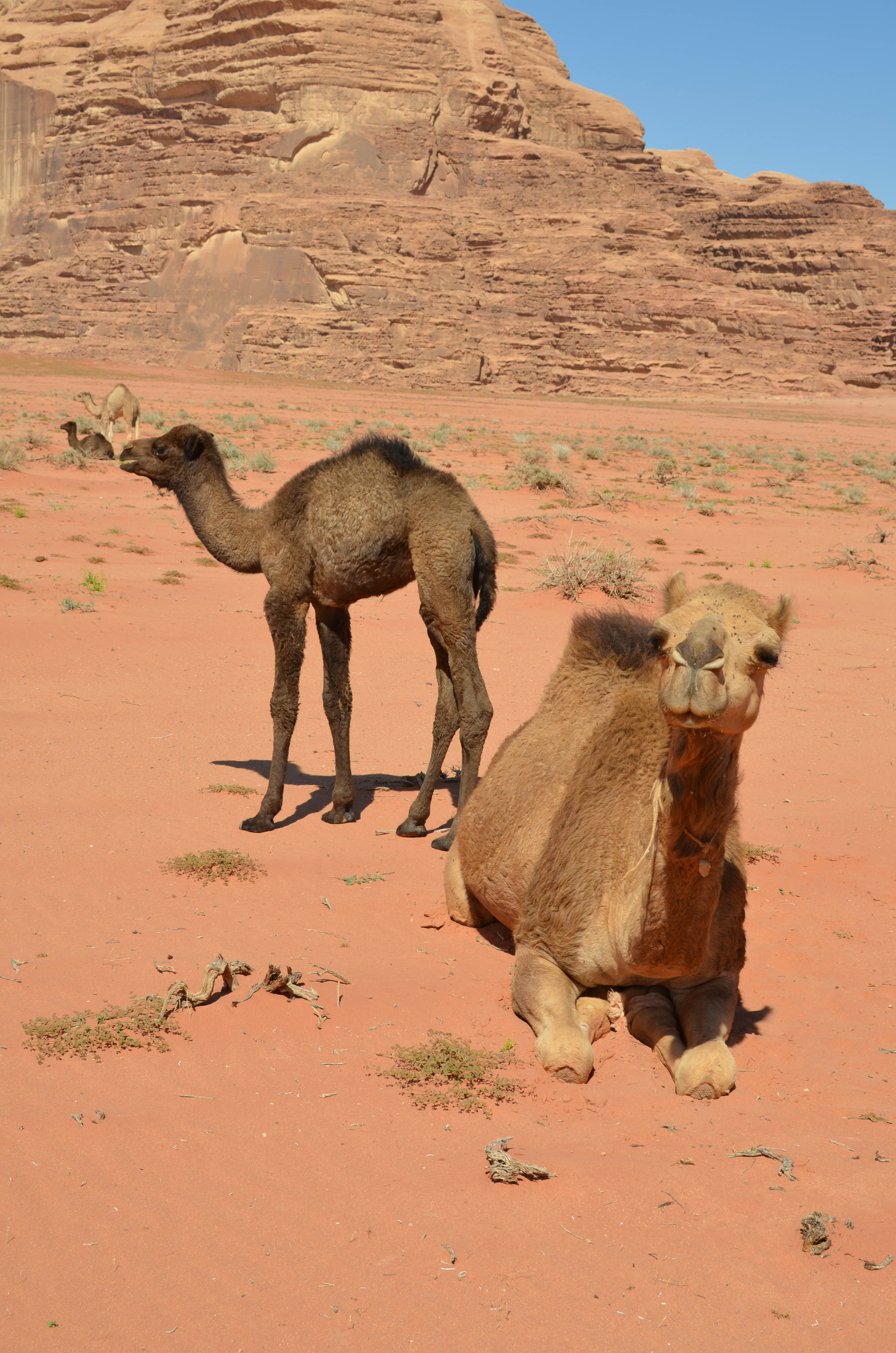 ​​​
Mom and baby in Wadi Rum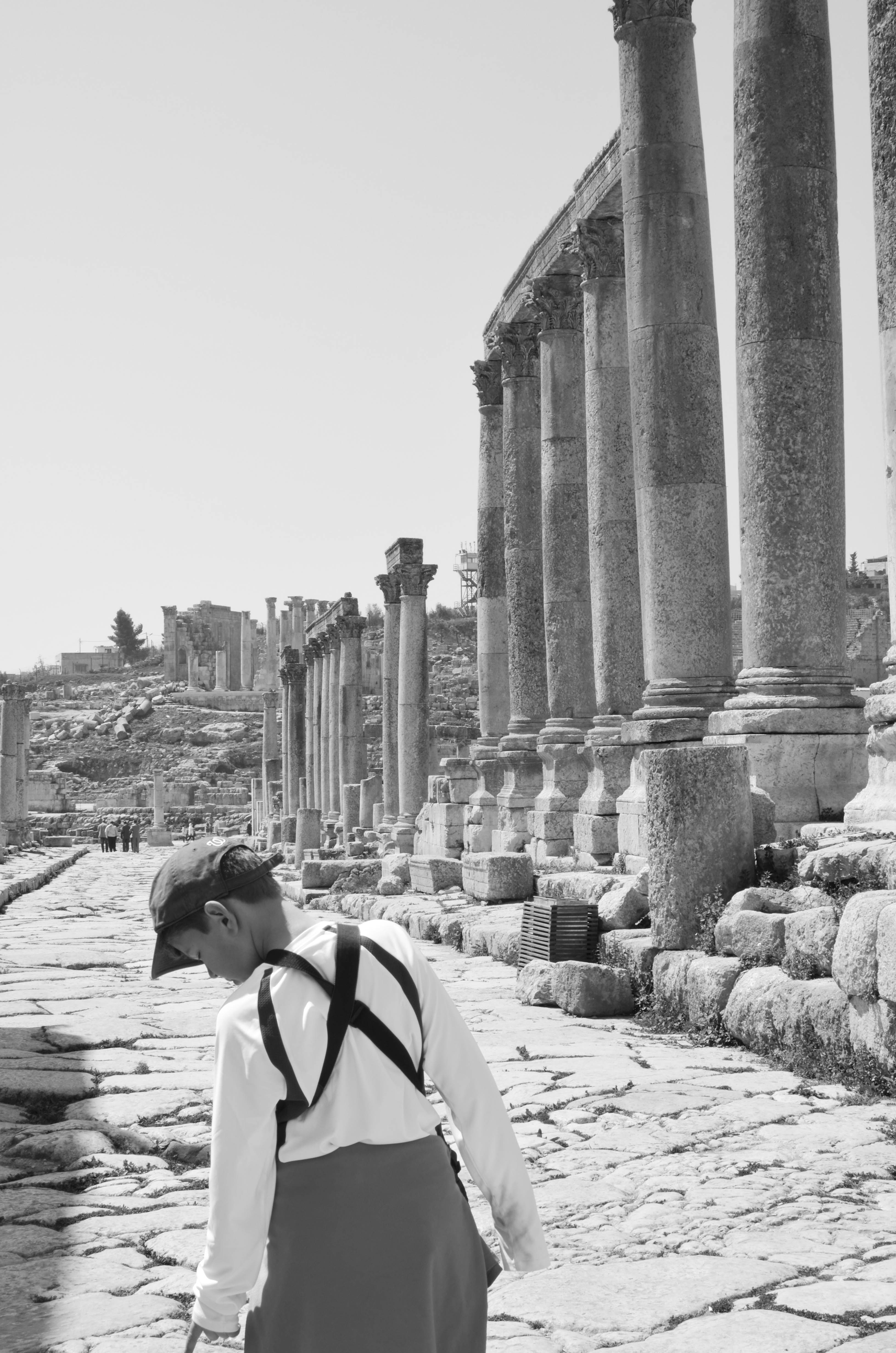 Chariot wheel marks in the Roman city of Jerash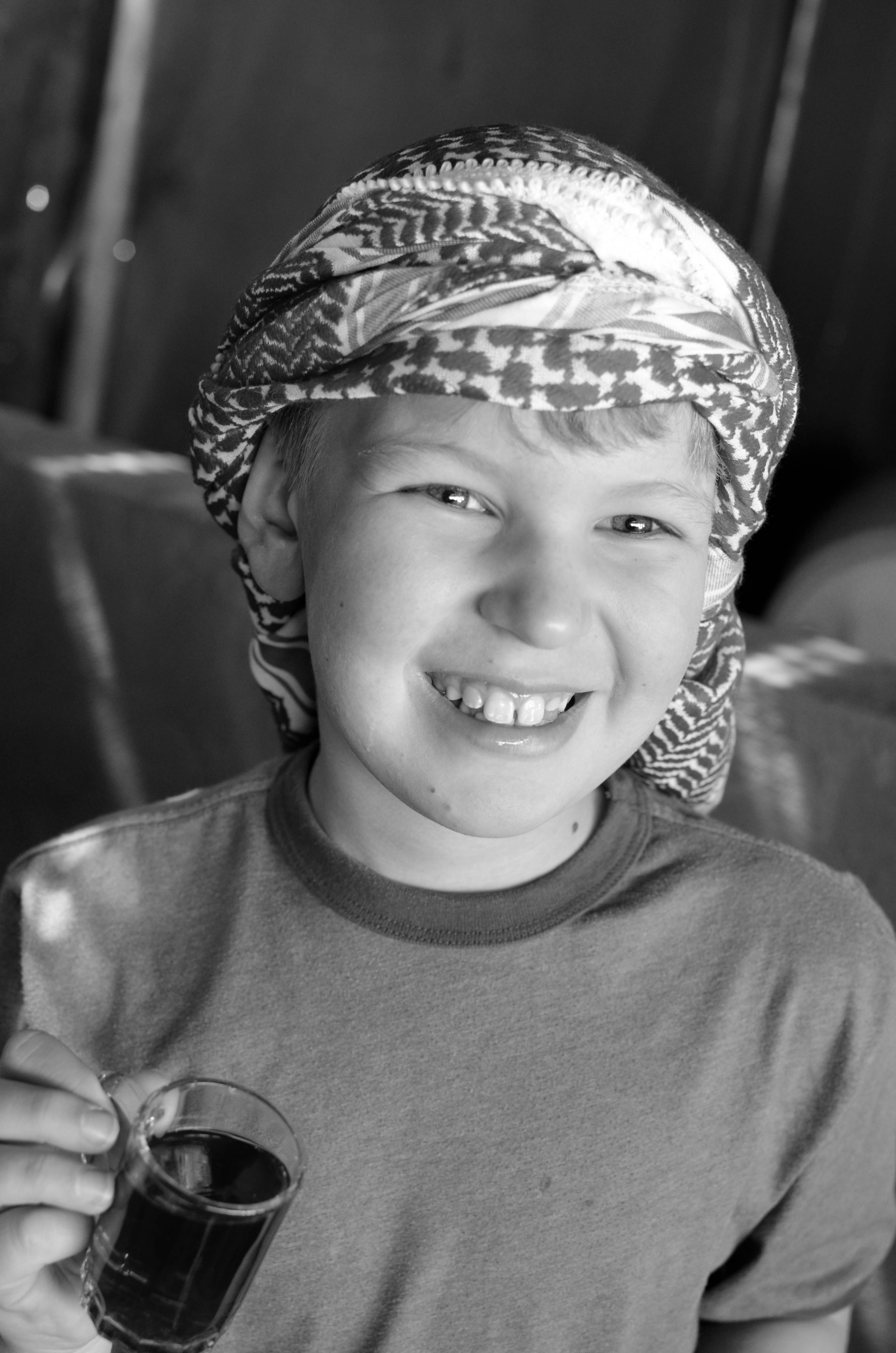 Enjoying Bedouin tea during an overnight stay in the desert