3


According to the Bible, dying is the beginning of eternity where heaven or hell await. According to an atheist, death is the end of all experiences and nothing exists beyond the universe. There is...

3



4



1


Non-religious students at London South Bank University have had posters advertising their society banned for being 'offensive'. The poster publicising the South Bank Atheist Society (SBAS)...

10


"Do you want me to pray for you to die as well?" (Camino) At age 17, I stopped believing in God. There wasn't any specific reason that I could identify. I just starting thinking ab...
About atheism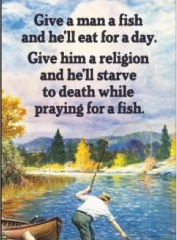 religion/atheism
https://valme.io/c/religion/atheism
c_prompt
God made me an atheist. Who are you to disagree?